Professional practice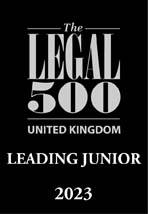 Peter is an experienced lawyer with particular expertise in commercial disputes (in litigation and arbitration) and international law and arbitration, as well as related areas of public and human rights law and employment law.
He is ranked as a leading junior by Legal 500, with comments including that he is "on top of the detail", has "excellent drafting skills" and "very good judgment", that his advocacy was "impressive" (Legal 500, 2023) and that he is "an absolute star" (Legal 500, 2022). In one case in which he recently appeared, the Divisional Court commented that he presented oral argument "with great skill".
Equally comfortable acting as sole counsel or as part of a team, some of Peter's recent work highlights include: acting as lead counsel in a EUR 150m+ arbitration; acting as part of the legal team in 1MDB v IPIC, a high-profile Commercial Court case seeking set aside of settlement agreement in connection with alleged fraud of Malaysian Prime Minister; and conducting oral advocacy before both the Divisional Court and the Court of Appeal in a case concerning diplomatic immunity and human rights.
In respect of Peter's commercial practice, his case load arises from a range of sectors, including banking and financial services, energy, insurance, life sciences, media/art, property and shipping/commodities. He acts both in an advisory and a contentious context, in litigation and in arbitration, and has experience of all stages of the dispute resolution process, from pre-issue to interim applications, trial and enforcement, and substantial experience in arbitration applications before the English courts. In addition to led work (e.g. 1MDB v IPIC; Bilta v Citibank), he has considerable experience as sole counsel, including in respect of applications for injunctive relief (e.g. to enforce contracts or confidentiality; or for freezing or anti-suit injunctions).
Peter also has an extensive practice in public international law, both before the domestic courts and before arbitral tribunals and in State-to-State claims. This includes, for example, acting in numerous matters concerning diplomatic privileges, State immunity or Act of State issues, human rights / international humanitarian law, sanctions and other matters. He has a substantial practice – both as junior and as sole / lead counsel – in international investment law and arbitration, which Peter has taught for several years at Kings' College, London.
Peter's experience also encompasses domestic public law / human rights – for example, appearing as advocate in Re AG (A Child) [2021] EWHC 1253 (Fam), [2022] EWCA Civ 1505, concerning the scope of positive obligations under Article 3 ECHR  – and employment law, where he has appeared in the ET, EAT, High Court and Court of Appeal.
Peter graduated top of his year in law at the University of Edinburgh in 2004, before completing a Ph D in private law, which was recently published.  He called to the Bar in 2012 with experience of practice as a solicitor (qualified in Scotland, 2010).  He has experience at all levels of the English legal system, including considerable expertise in respect of appellate work, having appeared on various occasions in the Court of Appeal and the Judicial Committee of the Privy Council, and worked for a year as a Judicial Assistant at the U.K. Supreme Court.
Peter will in appropriate cases act pro bono and for example worked on that basis in respect of claims regarding modern slavery.  He speaks and reads French well.