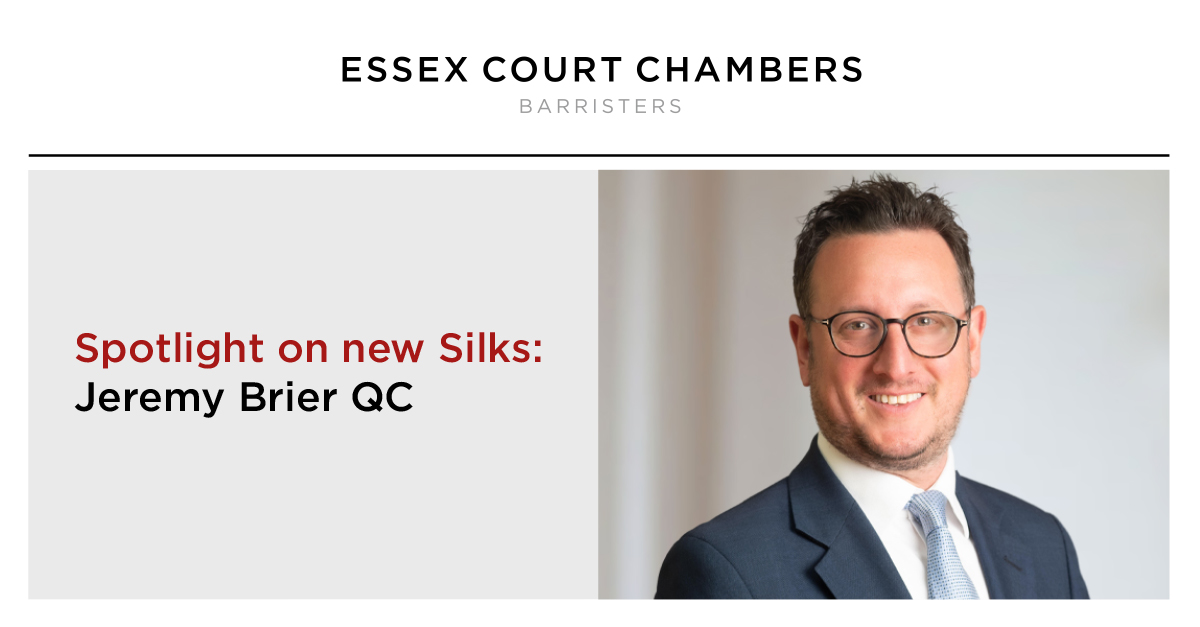 Jeremy Brier QC's practice specialises in complex and heavy commercial litigation, including insurance, banking and funds, all aspects of commercial fraud, shipping and international arbitration. He appears regularly in the Commercial Court and has advised and acted in numerous commercial disputes at all levels in the English courts.
In 2021 Jeremy was the Junior Counsel for Arch in Financial Conduct Authority v Arch, the test case on business interruption losses resulting from the Covid-19 pandemic. He appeared in the 4-day Supreme Court hearing and the High Court hearing. Jeremy has since written, spoken and advised extensively on the Judgments and its implications. In 2021 Jeremy also recently in a lengthy commercial fraud / tracing trial Re Gerald Martin (2021), a series of bitterly-contested return dates for Search Orders and Freezing Injunctions; a complex s.66 enforcement hearing (2021); and, more recently, in WSB v FOL [2022] EWHC 586 (Comm) an important case which Jeremy won concerning s.67-69 appeals before Calver J. He is soon to appear in the Court of Appeal on a case concerning the construction of insurance policies in a tower of insurance.
In the past Jeremy was led by Joe Smouha QC in Tyndaris v VWM (AI investment fund case; 2020) which featured as a Lawyer Top 20 Case of 2020, two anti-suit injunctions in Weyerhaeuser (2018, 2019); "Panamax Trader" (marine insurance: 2019); Golden Belt v BNP Paribas (5 week trial in 2017 / 2018; banking; fraud); Ideal Standard (2019; arbitration clauses / employment context); as well as numerous confidential international arbitrations.
Jeremy has been ranked for many years in both Chambers and Partners and the Legal 500 in a number of categories, including Commercial Litigation, Insurance and Shipping. The directories describe Jeremy as "a first-rate brain… Other barristers should be very scared when they come up against him because they will be outfoxed", "a powerful advocate with a dogged determination in arguing his case" and "an excellent advocate, calm and unflappable", "brilliant", "excellent", "a real arbitration specialist" with "the makings of a top silk" and an "ability to deliver results that has won him many fans". He has been praised for "coming up with the most creative and commercial solutions to really knotty problems, and delivers outstanding pieces of work… He is also incredibly nice, friendly and funny." In 2017 Jeremy was award "Commercial Litigation Junior of the Year" at the Chambers and Partners UK Bar Awards.
Jeremy often speaks at events, in 2021 he spoke with James Collins QC on the Essex Court Chambers Podcast about FCA test-case. He is available to speak on a number of topics including:
Commencement of Arbitrations: Problems and Pitfalls
Arbitration Appeals and Challenges: towards a new approach?
The FCA Test Case: An overview and discussion of the Supreme Court Judgment
Since 2018 Jeremy has sat as a Recorder of the Crown Court (Crime). He has regularly acted pro-bono and is a supporter of Advocate. He also appears on BBC News and Sky News as a legal commentator.
View Jeremy's full profile here.