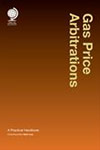 Volatility in the commodity markets – together with events such as the financial crisis, liberalisation of the gas markets in Europe, the development of gas hubs and the continuing influx of liquefied natural gas (LNG) into Europe – has put increasing pressure on pricing in many long-term gas sales agreements into continental Europe. This has led to a huge rise in the number of gas price review disputes, many of which require determination before an international arbitral tribunal.
This practical new handbook covers the various aspects of international gas pricing disputes. It contains contributions from leading international arbitration practitioners and arbitrators in the field, in-house counsel and industry experts. It covers the various stages of a gas pricing dispute, from drafting the clause to triggering a review, all the way through the various stages of the arbitral process. It also contains insights into how pricing in Europe may develop in the future and the effect that this may have on dispute resolution.
Despite the large number of high-value disputes in this area, this is one of the very few publications to draw together the various strands of gas pricing disputes into one book. It is therefore an invaluable guide for practitioners, in-house counsel and anyone else with an interest in this area.
Further information at: http://www.globelawandbusiness.com/GPA