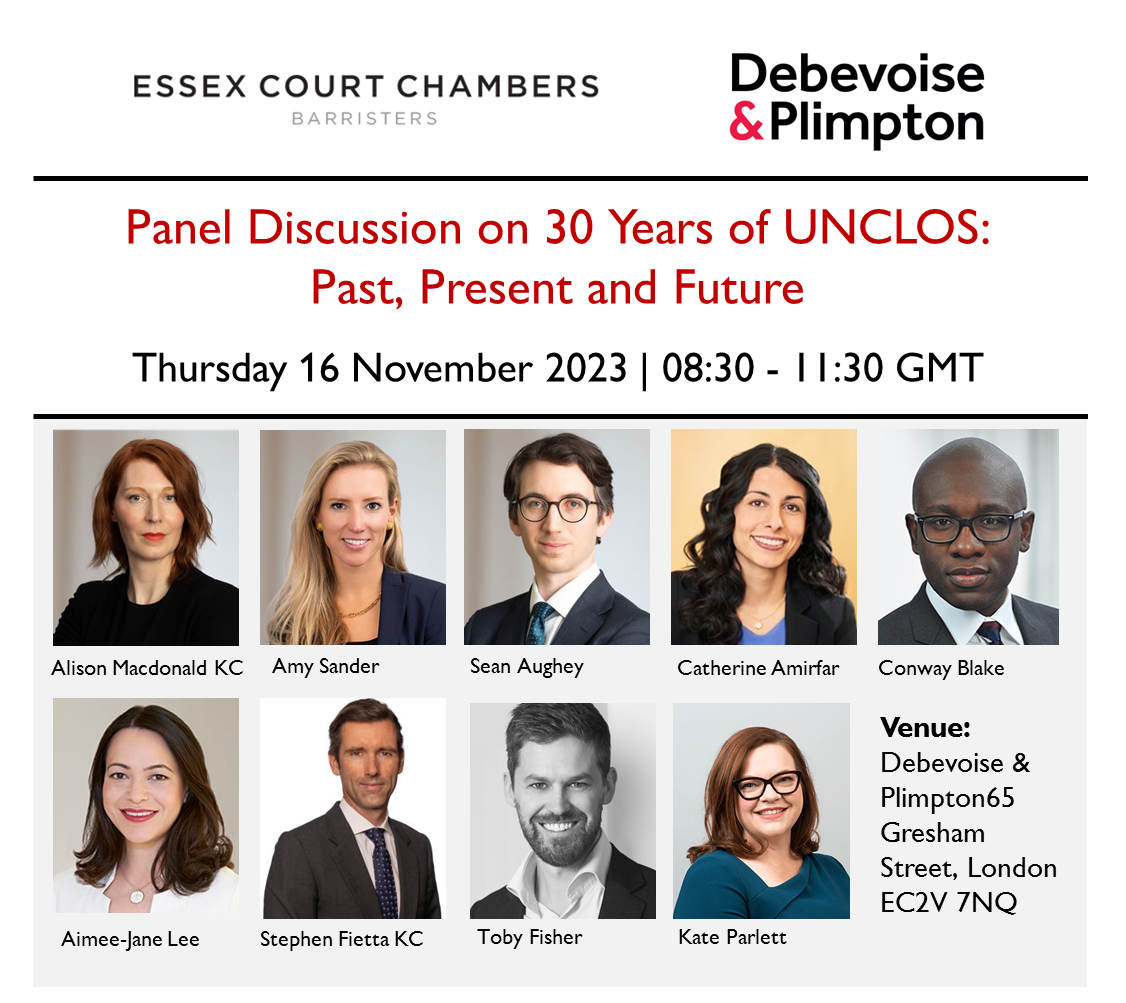 Join us for this upcoming panel discussion on "30 Years of UNCLOS: Past, Present and Future" taking place on Thursday 16 November, co-hosted with Debevoise & Plimpton.
Much has changed for the law of the sea in the past decades. The law of the sea framework, as codified in the United Nations Convention on the Law of the Sea, was established before increased awareness of climate change and its impacts. Technological advances now permit exploitation of new resources, and international rules relating to issues such as the continental shelf and deep seabed mining are emerging and evolving.
As we approach 30 years since UNCLOS entered into force, this event will discuss where we have reached and the issues that are likely to dominate the law of the sea in the coming years and decades.
The first session will discuss UNCLOS' role in developing international law and supporting boundary dispute resolution, including:
States' obligations pending delimitation;
The contribution of and interaction between the International Court of Justice, International Tribunal on the Law of the Sea and Annex VII tribunals;
The growing relevance of advisory opinions; and
The role of the Commission on the Limits of the Continental Shelf.
The second session will explore how international law, and law of the sea in particular, should:
Account for climate change and rising sea levels, including the pressing question of the statehood of low-lying coastal States;
Protect the marine environment; and
Provide for the exploration of seabed minerals and other marine resources.
Agenda
8:30 – 9:00am: Registration
9:00 – 9:05am: Welcome
9:05 – 10:05am: First Panel
10:05 – 10:30am: Coffee break
10:30 – 11:30am: Second Panel
Speakers include:
Catherine Amirfar – Debevoise & Plimpton
Sean Aughey – Essex Court Chambers
Conway Blake – Debevoise & Plimpton
Stephen Fietta KC – Fietta LLP
Toby Fisher – Matrix Chambers
Aimee-Jane Lee – Debevoise & Plimpton
Alison Macdonald KC – Essex Court Chambers
Kate Parlett – 20 Essex Street
Amy Sander – Essex Court Chambers
If you wish to attend this event please RSVP here.