Professional practice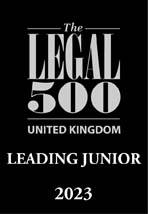 John specialises in commercial litigation, with a focus on disputes in the fields of banking and finance, civil fraud, and shipping. John was named one of the top 10 juniors for Commercial Litigation under eight years' call in 2018 and is recommended by The Legal 500 UK for Banking & Finance and Shipping. Legal directories describe John as "incredibly hardworking and very bright", "with an unparalleled ability to deal with difficult clients in highly-pressured situations".
John frequently appears as sole counsel, and has acted in the Supreme Court, Privy Council and Court of Appeal, as well as the Court of Justice of the European Union and in arbitration. Most of his cases are in the Commercial Court or in arbitration.  He has considerable experience of interlocutory and procedural law, including freezing injunctions, jurisdiction disputes and disclosure-related applications.
Recent cases include:
Suppipat v Narongdej & ors: acting for the 11th & 13th defendants in a US$1-2 billion claim for conspiracy under Thai law, concerning dealings in the shares of a substantial Thai renewable energy company. 17-week trial commences October 2022. (Led by Ruth den Besten.)
E D & F Man Capital Markets Limited v Come Harvest Holdings Ltd & ors: acted for the Claimant in proceedings leading to a $284m judgment in deceit and conspiracy following a 5-week trial in 2021. The case arose out of forged warehouse receipts used in repo financing transactions, and led to jurisdiction battles in the High Court and Court of Appeal. (Led by Huw Davies KC.)
Premier Cruises Ltd v DLA Piper Rus Ltd & DLA Piper UK Ltd: acted for a cruise ship operator in a negligence claim against former solicitors, resulting from the handling of a shipbuilding contract and arbitration. Dispute settled after rejection of defendants' application to stay the claims in favour of arbitration. (Led by Philippa Hopkins KC.)
Investec Trust (Guernsey) Limited v Glenalla Properties Limited: four-day hearing in the Privy Council, concerning the respective rights of trustees, beneficiaries and creditors of the Tchenguiz Discretionary Trust, after £180m claims were brought against the trustees by liquidators of SPVs formerly owned by the trustees.  (Led by Lord Goldsmith KC and Kathryn Purkis.)
John has a particular specialism in the law of guarantees.  He is co-author of the forthcoming (8th) edition of Andrews & Millett on Guarantees, and a co-author of the Guarantee and Indemnity title of Atkin's Court Forms.