Professional practice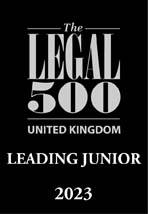 John specialises in commercial litigation, with a focus on disputes in the fields of banking and finance, civil fraud and shipping. John was named one of the top 10 juniors for Commercial Litigation under eight years' call in 2018, and is recommended by The Legal 500 UK for Banking & Finance and Shipping.  He is praised for being "incredibly hardworking and very bright", "fiercely intelligent and able to deliver perfectly reasoned and strategic advice quickly", a "very thoughtful, calm junior with excellent communication and technical skills", and an "excellent team player". He is also described as having "an unparalleled ability to deal with difficult clients in highly-pressured situations", and as being "a powerhouse of an advocate".
Most of John's cases are in the Commercial Court or in arbitration, but he has also acted (led and unled) in the Court of Appeal and Supreme Court.  He has acted in heavyweight commercial litigation including Tchenguiz v SFO (2013-2014), Tchenguiz v Grant Thornton (2015-2018) and Suppipat v Narongdej (2020-2023).  He has considerable experience of interlocutory and procedural law, including freezing injunctions, jurisdiction disputes and disclosure-related applications.
Highlights include:
Suppipat v Narongdej: acted for the CEO of a Thai bank and senior partner of one of Thailand's leading law firms, defending conspiracy allegations brought under Thai law in a 20-week trial.  Listed by The Lawyer as one of the top 20 cases of 2022.
E D & F Man Capital Markets Limited v Come Harvest Holdings Ltd: acted for the claimant in a 5-week trial in 2021 leading to a $284m judgment in deceit and conspiracy.
Edgeworth Capital (Luxembourg) S.A.R.L v Aabar Investments PJS. Claim for interim and final injunctive relief brought against a sovereign wealth fund, involving an urgent out-of-hours injunction and a 3-week trial.
Investec Trust (Guernsey) Limited v Glenalla Properties Limited: 4-day hearing in the Privy Council, concerning the respective rights of trustees, beneficiaries and creditors of a trust after claims were brought against the trustees by insolvent SPVs previously owned by the trustees.
John has a particular specialism in the law of guarantees.  He is co-author of the forthcoming (8th) edition of Andrews & Millett on Guarantees, and of the Guarantee and Indemnity title of Atkin's Court Forms (2022).