Professional practice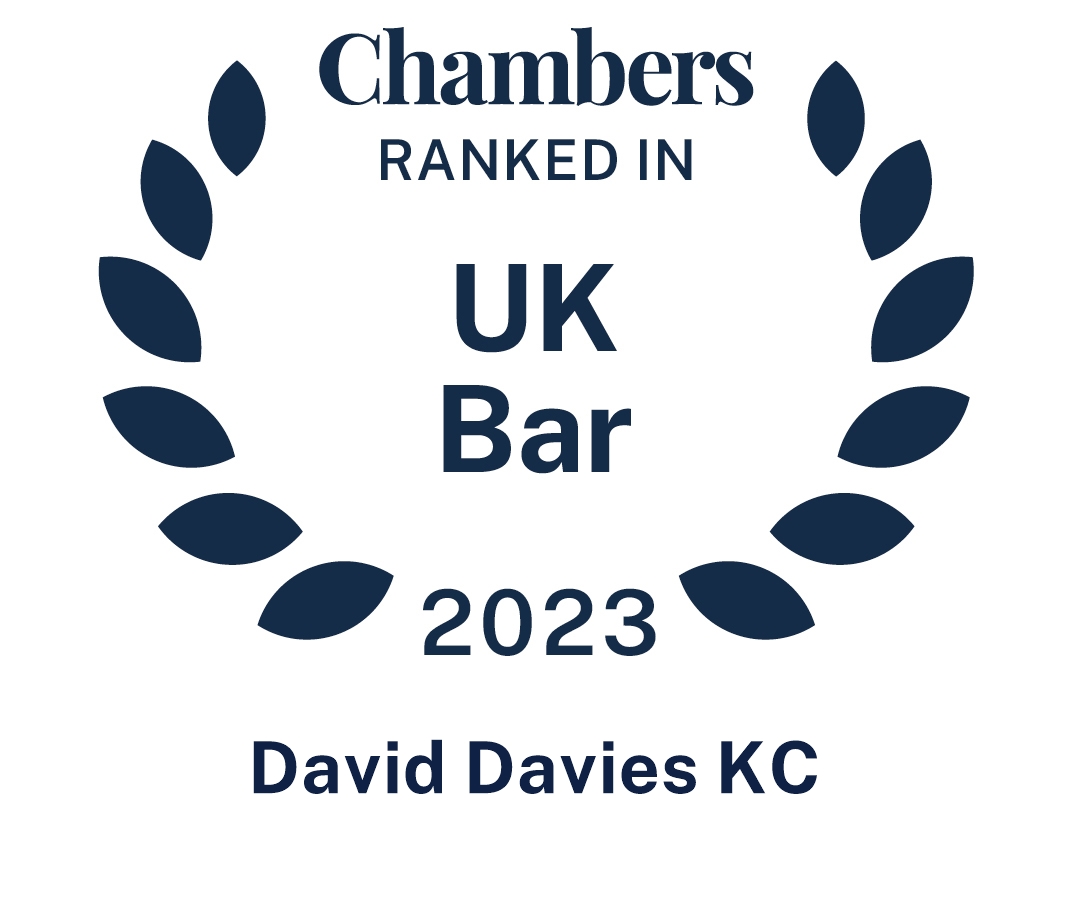 David Davies KC is an experienced advocate who has represented clients in some of the most high-profile and high-value fraud and international arbitration cases in London in recent years. He has been described in the legal directories as "a Rolls Royce technical lawyer", "a man of real talent and real insight", a "brilliant practitioner" and a "fine lawyer". David has considerable experience working with large teams of solicitors, foreign lawyers and experts and is known for his "soft people skills" and has been described as a "pleasure to work with" and "very popular with clients".
Since taking silk in 2021, he has acted as lead counsel in several major matters including aspects of the US$850 million Mints litigation in the Commercial Court and an eight-party jurisdictional appeal in The Public Institute for Social Security v. Banque Pictet. He is representing the former Deputy Finance Minister of Mozambique in the Mozambique "tuna bonds" case (one of the largest commercial trials of 2023) and is also instructed as lead counsel by a leading London litigation practice on a confidential shareholders' dispute involving allegations of unfair prejudice (four-week hearing in 2022).
Commercial/Fraud Litigation: David is "known for his involvement in cases involving complex fraud" and has considerable experience of fraud litigation on the largest scale and "knows the fraud market, is highly commercial and is both capable and clever". Many of David's cases involve Russia or the former CIS states and he is "often to be seen handling complex, multi- jurisdictional oligarch related work" and "has a really deep understanding of that area of the law". David has particular experience of heavy High Court trial work, having acted in three lengthy international fraud trials:
the 11-week Tatneft trial (US$300 million fraud claim against prominent Ukrainian businessmen applying Russian and Ukrainian law);
the 9-week Bank Trust trial (US$900 million claim against former directors and majority owners of a Russian retail bank in relation to related-party transactions and manipulation of the bank's accounts); and
the 24-week Fiona Trust trial (US$800 million fraud claim arising out of the alleged bribery of senior officials at Russian state-owned shipping companies).
In addition to those matters, David has appeared in three high stakes expedited trials in the Commercial Court (Mercuria v. Citibank; Rusal v. Crispian and Taqa Britani v. RockRose). As a result, David has considerable experience of the preparation and conduct of complex and document-heavy commercial trials including those involving detailed expert evidence and the application of foreign law. This experience includes the cross-examination of foreign law experts on complex points of law and, in both the Bank Trust and Tatneft trials, David undertook the cross-examination of the Defendants' Russian law expert.
During 2022, David has advised on various aspects of the Russian sanctions regime and represented the claimants in the first major Commercial Court case to consider the effect of those sanctions on pending litigation (PJSC National Bank Trust v. Mints [2023] EWHC 118 (Comm)).
As many of David's cases involve allegations of fraud or urgent issues, he has extensive experience of worldwide freezing orders and other urgent injunctive relief and has, on several occasions, acted in a series of urgent hearings in relation to such injunctions. His experience includes the successful defence of the WFOs in the Bank Trust and Tatneft cases, contempt proceedings relating to breaches of a WFO (PJSC VAB v. Maksimov) and acting as lead counsel in a series of interlocutory hearings in VPB v. Bedzhamov, a £1.3 billion fraud claim in the Chancery Division in which a WFO and Search Order had been granted.
As a result of the international nature of his work, David has appeared in a number of major jurisdictional disputes in the English courts. His experience in this regard includes the Latmar Holdings case in the Commercial Court and Court of Appeal, VTB v. Nutritek (Court of Appeal), representing the government of Kazakhstan in Erdenet Mining Corp v. Kazakhstan and acting as sole counsel for a former senior partner of Banque Mirabaud in the recent major jurisdictional dispute in The Public Institution for Social Security v. Banque Pictet, a US$800 million claim relating to allegations of bribery of a Kuwaiti public official (first instance and Court of Appeal).
Many of David's cases have an offshore dimension and he was called to the BVI bar in 2015 before being involved in various aspects of the Emmerson and Cukurova litigation.  He recently acted in proceedings in Nevis involving a claim for millions of dollars of unpaid legal fees relating to a complex series of claims in Hong Kong, the Cayman Islands and Nevis itself.  He has particular experience of claims to claw back assets transferred into offshore trust structures.
International Arbitration: David has a substantial practice in international commercial arbitration and has been described as a "leading light in the arbitration area". He has appeared in numerous confidential international arbitrations, often acting for or against state-owned companies. He has for example acted in long-running proceedings arising out of the privatisation of the railways of Kenya and Uganda, represented the European Bank for Reconstruction and Development, a European state in a dispute in relation to satellite surveillance services and a state oil and gas company in relation to a subsea drilling project in the Caribbean. He has also appeared in the Iran-US Claims Tribunal in the Hague in proceedings relating to alleged breaches by the United States of the Algiers Accords of 1981. He has extensive experience of shareholder disputes in arbitration including unfair prejudice.
David is also frequently instructed in arbitration related proceedings in the Commercial Court including challenges to awards under Sections 67, 68 and 69 of the Arbitration Act and proceedings in relation to the enforcement of major arbitration awards such as the Yukos award against the Russian state and IMS v. MODSAF (Iranian sanctions).