Professional practice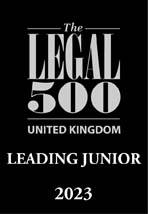 Catherine Jung is an experienced senior junior barrister with a practice covering a wide range of international commercial disputes in both litigation and arbitration.  She is ranked as a leading junior for commercial litigation in Legal 500, where she is described amongst other things as "analytical", "takes initiative" and with drafting "of the highest quality – persuasive and well researched".  She was also previously named by Legal Week as one of its 'Stars of the Bar', being described as "unfailingly responsive", with a "fantastic ability to grasp complex detail and simplify it quickly and effectively".
Catherine has particular expertise in disputes concerning civil fraud; issues of jurisdiction, choice of law and state immunity; international arbitration; arbitration-related court applications (including enforcement of and challenges to arbitration awards); energy and minerals; and banking and financial services.
She is regularly instructed in a senior junior role on large-scale, long-running and high-profile disputes, many of which have been ranked in the The Lawyer's annual 'Top 20 cases' series.  Most recently, she has acted for the Ukrainian state-owned PrivatBank in the 13-week trial of the bank's US$1.9bn civil fraud claim against its former shareholders. In recent years, she has also appeared in the Avonwick Holdings Ltd v Azitio Holdings Ltd proceedings (8-week trial acting for the Ukrainian businessman Sergiy Taruta in relation to a US$1bn+ claim) and in the Dynasty Co for Oil and Gas Trading Ltd v Kurdistan Regional Government of Iraq proceedings (successfully striking out a US$1.6bn claim against a former minister of the Kurdistan Regional Government on state immunity and forum non conveniens grounds).  Catherine has extensive experience of working with expert witnesses and handling expert evidence, in particular in relation to issues of foreign law.
Catherine also has a busy arbitration practice. This includes, most recently, acting for a Singaporean shipbuilder in a 4-week merits hearing concerning a contract for the construction of a semi-submersible rig, and acting for a consortium of lenders in ICC arbitral proceedings brought under US$2bn facility agreements.  Catherine has particular experience in arbitration-related court applications; she has recently appeared in claims concerning the interpretation of unilateral options to arbitrate (Aiteo Eastern E&P Co Ltd v Shell Western Supply and Trading Ltd) and the enforcement and execution of an arbitration award against a state (GPGC Ltd v Republic of Ghana).