Professional practice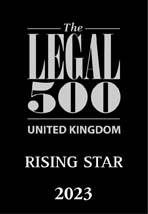 Benedict's practice is focused on high-value commercial litigation and arbitration. He has been ranked as a Rising Star in those practice areas in the Legal 500, described as "technically excellent" and "very easy to work with"; and was instructed in two of The Lawyer's 'Top 20 cases' of 2022, both in the Commercial Court. He is developing a specialism in heavy civil fraud and banking & finance, and also has an impressive investment arbitration practice (acting for both investors and host states). Benedict increasingly takes on significant advocacy roles as junior counsel.
Benedict has acted in proceedings in the High Court (Commercial Court, Financial List and QBD), Court of Appeal, and Supreme Court, as well as in the County Courts and the Employment Tribunal. In addition to led work, Benedict has appeared as sole advocate in the Commercial Court, and in a number of general commercial County Court trials and applications.
In arbitration, he has appeared in or advised on proceedings under the ICSID, ICC, LCIA, HKIAC, SIAC, LMAA, ICDR and UNCITRAL Rules, seated both in London and abroad.
Benedict also welcomes appointment as arbitrator, and has sat under the ICC and UNCITRAL Rules.
Highlights of Benedict's recent or current work include acting: (i) for the primary defendant in Suppipat v Narongdej (Commercial Court), a $2 billion multi-party fraud claim arising out of the sale of Thailand's largest renewable energy firm; (ii) for the claimant in Lonestar Communications Corporation LLC v Kay & ors (Commercial Court), a conspiracy claim concerning a large-scale cyber attack on a Liberian telecommunications network; (iii) for Oceanwood in Cyrus Opportunities Master Fund II, Ltd v Oceanwood Opportunities Master Fund, Financial List proceedings raising issues under the Market Abuse Regulation in relation to the trading of debt securities; (iv) for the Republic of India in Vedanta Resources Ltd v India, a multi-billion dollar claim alleging breaches of an investment treaty by way of a taxation measure, and in multi-jurisdiction enforcement proceedings arising out of the related Cairn Energy PLC v India arbitration; and (v) as sole counsel for the French Republic in Buttet v Ambassade de France au Royaume-Uni, successfully asserting state immunity in respect of a claim by a former security contractor at the French embassy to the United Kingdom.
Prior to joining Essex Court Chambers Benedict qualified in New Zealand, where he prosecuted serious criminal cases before moving to commercial practice. He has appeared both led and un-led in the New Zealand courts.
He graduated first in his year from the Universities of Auckland and Cambridge.